For all childcare enquiries please contact the Childcare Manager on 071-9622566 or email: childcare@breffnifrc.ie
Our Mission Statement:
Within Breffni Childcare we believe that positive experiences in the early years are imperative as they influence children's self-confidence, social, emotional and physical development & laying the foundations for all future learning.
Our Ethos:
Our Early Childhood Care and Education Services are underpinned by a strong values-based ethos.
We believe that the values of justice, inclusion, equality, respect, and dignity are central to the operation of Breffni Childcare. These values apply to all stakeholders: parents/carers/other carers, children and staff. They promote a strong caring ethos that benefits us all, but in particular, your child.
Breffni Childcare, incorporating Pre-School & Creche:
Our Community Childcare facility is TUSLA approved and employs a Manager, Assistant Manager, & 10 staff members.  Breffni Childcare is involved in the following Government Schemes:
National Childcare Scheme (NCS)  –  You can find all relevant information here https://www.ncs.gov.ie/en/
Free Pre-School (ECCE)  –  You can find all relevant information here https://www.earlychildhoodireland.ie/childcare-search/the-ecce-scheme/
Dear Parents & Guardians,
Please see below our calendar of operation for NCS and ECCE 2023/2024.  Also below is our Fee Table in accordance with Pobal guidelines.  The calendar includes all the significant closure dates throughout the term. Please take a moment to review these dates and mark them on your calendars.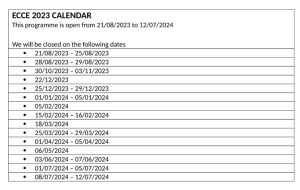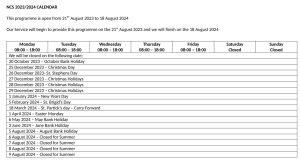 Our Practice:
Breffni Childcare – Striving for Exceptional Quality Service. At Breffni Childcare, we recognize that quality is something that is constantly evolving, and the pursuit of quality should be viewed as a continuous process, not a product. To ensure continuous improvement, we actively seek input from both our staff and parents to refine the services we offer.
In support of the concept of this progressive development, Breffni Childcare maintains that the provision of exceptional services is contingent upon five fundamental elements: an optimal environment, a dynamic and engaging curriculum, proper nutrition, proficient and knowledgeable staff, as well as adaptable and accommodating service.
Meals
All our meals are freshly prepared using fresh ingredients for breakfast, mid-morning snack, dinner, and afternoon snack.  Dietary / allergy requirements are met as required.
Curriculum
Breffni Childcare offers a comprehensive and tailored curriculum that caters to the diverse needs, ages, and developmental stages of all children under our supervision. Our program includes a range of engaging indoor and outdoor activities designed to promote holistic growth and development. We utilize both play-based emergent learning approaches as well as the Áistear Curriculum Framework to ensure optimal educational outcomes for each child in our care.
Waiting List
Our waiting list does not follow a strict first-come, first-served approach. While parents may add their child's name to our waiting list during the prenatal stage if they desire, priority for enrolment is not determined by the duration of time since placement on the list. Instead, availability in the appropriate age group is taken into consideration when allocating spots.
Where all things are equal and more children want places than are available, the following admissions criteria will apply:
Priority will be given to those children who have siblings already at Breffni Childcare.
Priority will be given to children requiring full-time rather than part-time care when full-time places are available.
Priority will then be given to a child who has been on the waiting list for the longer period of time.  A child whose name is not on the waiting list but who falls within the categories below may also be offered a place.
Children referred to by Social Services, Health Visitor, or other Health Care Professional.
Download Waiting List Form
Carrick on Shannon Baby & Toddler Group
All adults who are in the company of a toddler can come along and enjoy a relaxed cup of tea or coffee, while toddlers and babies have a great supply of toys and equipment to play with. This is a multi cultural group which provides a high level of support to parents who may be new to an area or from a different cultural background. This group is also particularly suited to working mums who find themselves alone or isolated once baby arrives.  This group meets every second Thursday from 11.30am – 1pm.  Cost:  €2 donation per family.